A government bond is a debt security issued by a government to support government spending and obligations. Investopedia.com
In my understanding, a government bond is where the Government borrows money for infrastructure and recurrent expenses like paying salaries etc. They call it budgetary support. Imagine having to borrow money to consume and some of the money meant for infrastructure goes to ghost projects like the SGR phase 2.
Ghana has found itself unable to pay off its bond holders and also unable to borrow more money. Let me paint a very simplistic picture of what is happening to Ghana and what is likely to happen to other economies that are dependent on borrowing to pay salaries in a bloated government.
You need money to pay your rent or pay school fees etc
You take a Fuliza loan.
You then take an Mshwari loan and pay the Fuliza.
Since the Fuliza has reduced the amount you got from Mshwari, you take KCB Mpesa.
After 30 days, you need to pay both Mshwari and KCB Mpesa, so you take Hustler fund to try and pay off the two debts and also a Fuliza to try top it up. However, this is still not sufficient so a penalty is imposed on you for late payment and you need to look for more money.
You go to a shylock and get money against your Laptop and instead of pay off the mobile loans, you buy new rims for your car.
After 30 days, you don't have money to pay the shylock and you are already negatively listed in the CRB so you can't access the loans that you had accessed earlier.
You go to a microfinance and negotiate for a logbook loan and you pay off the shylock his interest but he still has your laptop.
You then discover that the interest rate at the microfinance is too high so you go to the bank to negotiate for a longer term loan. The bank tells you that you need to pay off all your other smaller debts and have a clean CRB report before loaning you the money.
You are now stuck, you don't have any money and no assets you can sell.
Below is a screen shot showing what is happening in Ghana. The link is at the end of this article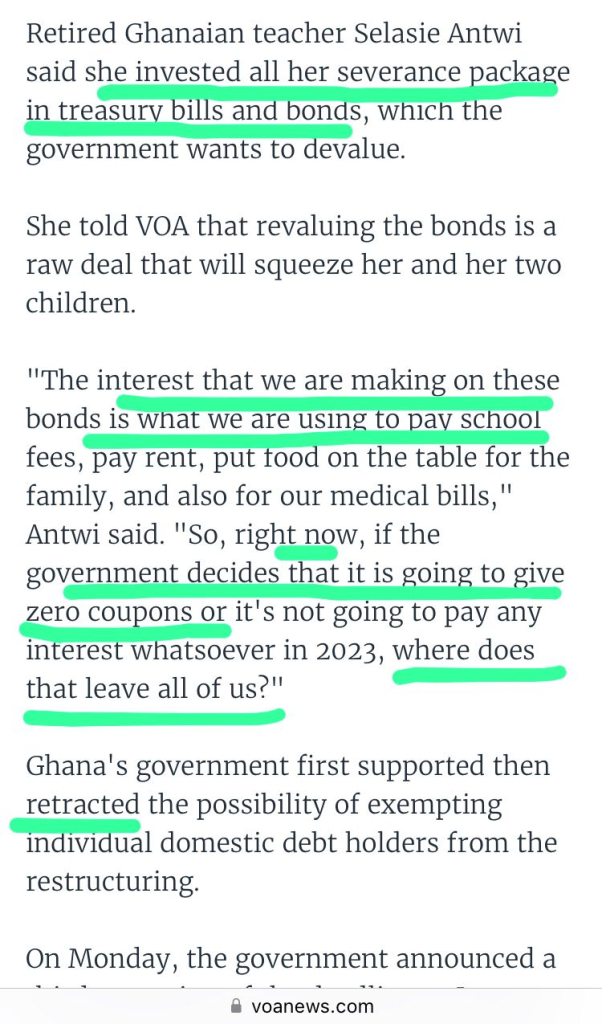 Redefining money.
We were taught that money is a store of value and a medium of exchange. We are now learning that money is an idea…. like something that is not real.. something who's real value can be changed by the Government like the example of Ghana debasing its currency. You see, money is no longer based on gold reserves etc… its printed and each Government can print its own money at will… albeit with consequences of inflation etc.
You see, when a government borrows from another country, it borrows in dollars, so to pay back, it has to earn the dollars. When it borrows locally, it borrows in its own currency and worst case scenario, it will print money and pay back its debtors, i.e. bondholders. In other words, you will have lent the government money and it then pays you in worthless papers in the name of money plus interest.
The screenshot below is for an article that's referenced below. It expounds a lot more on the concept of money.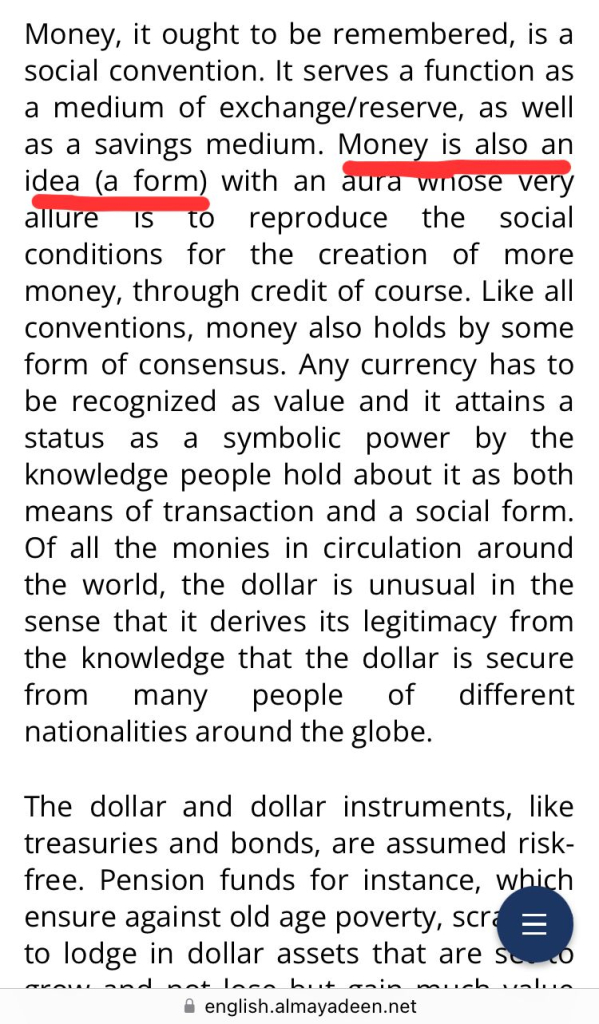 Now that we have seen that Government Securities are not always the safest, what out we to do? Diversify.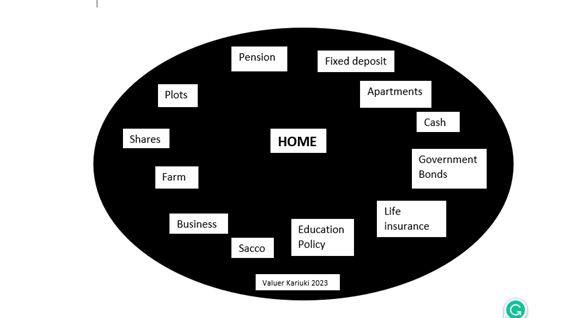 Contrasting land and bonds
Land is a REAL Asset. Money is an Idea
Unlike bonds, the value of land is not negatively affected by the global financial markets. eg, the Russia Ukraine war does not have a direct impact on the values of plots in Ruiru.
Bonds are affected by inflation and the real value of the money invested in bonds decreases over the term of the bond. Land appreciates in value most of the time. It is possible to buy land that has reached the maximum value or in areas where the bubble has burst. Talk to your valuer before buying property. See this link for more on land appreciation. https://kariukiwaweru.com/category/ruiru/
When there is a Global financial crisis like in the case of Ghana, it is harder to trade with your bonds unlike land.
You can trade in parts of a bond while you can't trade in parts of a plot especially for plots that are minimum sizes.
The entry to the bonds market is lower, Kshs 50,000 unlike land that requires a greater capital outlay.
Bonds are more liquid than land. You can easily trade your bonds in the secondary market unlike land that can take a longer duration to liquidate. Even cash transactions in land take about 90 days to be complete.
Bonds pay interest half yearly. This is good for your liquidity. You can however also make money from leasing your land or doing some economic activities on it to generate an income.
Some bonds, like the infrastructure bond, are tax free unlike land that attracts a variety of taxes.
See below links for the articles referenced above.
Conclusion
Depending on your investment objectives, your personal convictions about the current and future state of the country, and your risk appetite, you can choose the investment mix that works best for you. The main point here is to diversify.
In the case study of Ghana, there is a Swahili saying, Ukiona cha mwenzako cha nyolewa…. chako kitie maji.
We have plots (e.g. Oaklands and Kijani Ridge) and apartments (e.g. Unity Homes) for sale and warehouses to let in a Special Economic Zone (SEZ) (e.g. Samtech Business Park) and in an Export Processing Zone (EPZ) (e.g. Africa Logistics Properties ALP in Tilisi). You can choose from more properties in Tatu City, Ruiru, Nairobi and other parts of Kenya. We can also scout the properties that suit your specific needs.
Lets talk +254 723 477035 or email info@kariukiwaweru.com
Valuer Kariùki, MRICS
Registered & Practicing Valuer & Estate Agent, Kenya.
Chartered Valuation Surveyor. Global